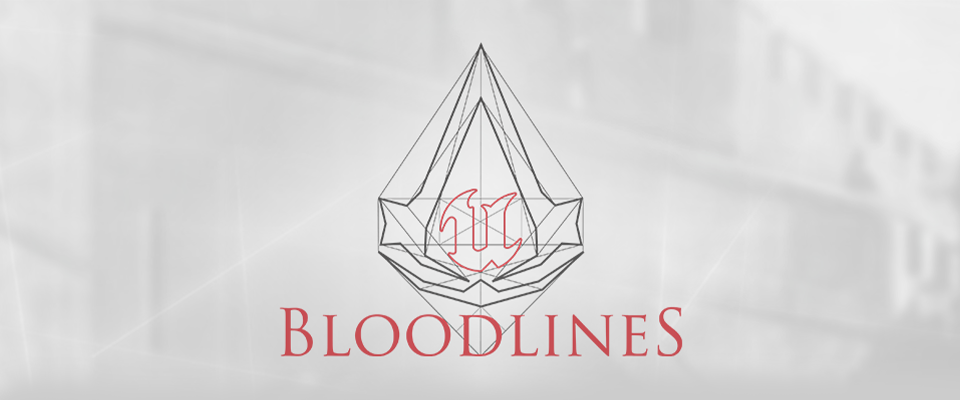 Assassin's Creed Bloodlines : Remake | Fan Game
A downloadable game for Windows
Acre, 1191. The Templar Grand Master : Armand Bouchard is looking for a new apple of Eden. As the new mentor of the Levantine Assassins, Altair will strike the Brotherhood's enemies first.
Use your assassin training to sneak into the citadel of Acre with your parkour abilities and kill any Templars that stand in your way.
Become the shadows and do not let them see you.

Gamepad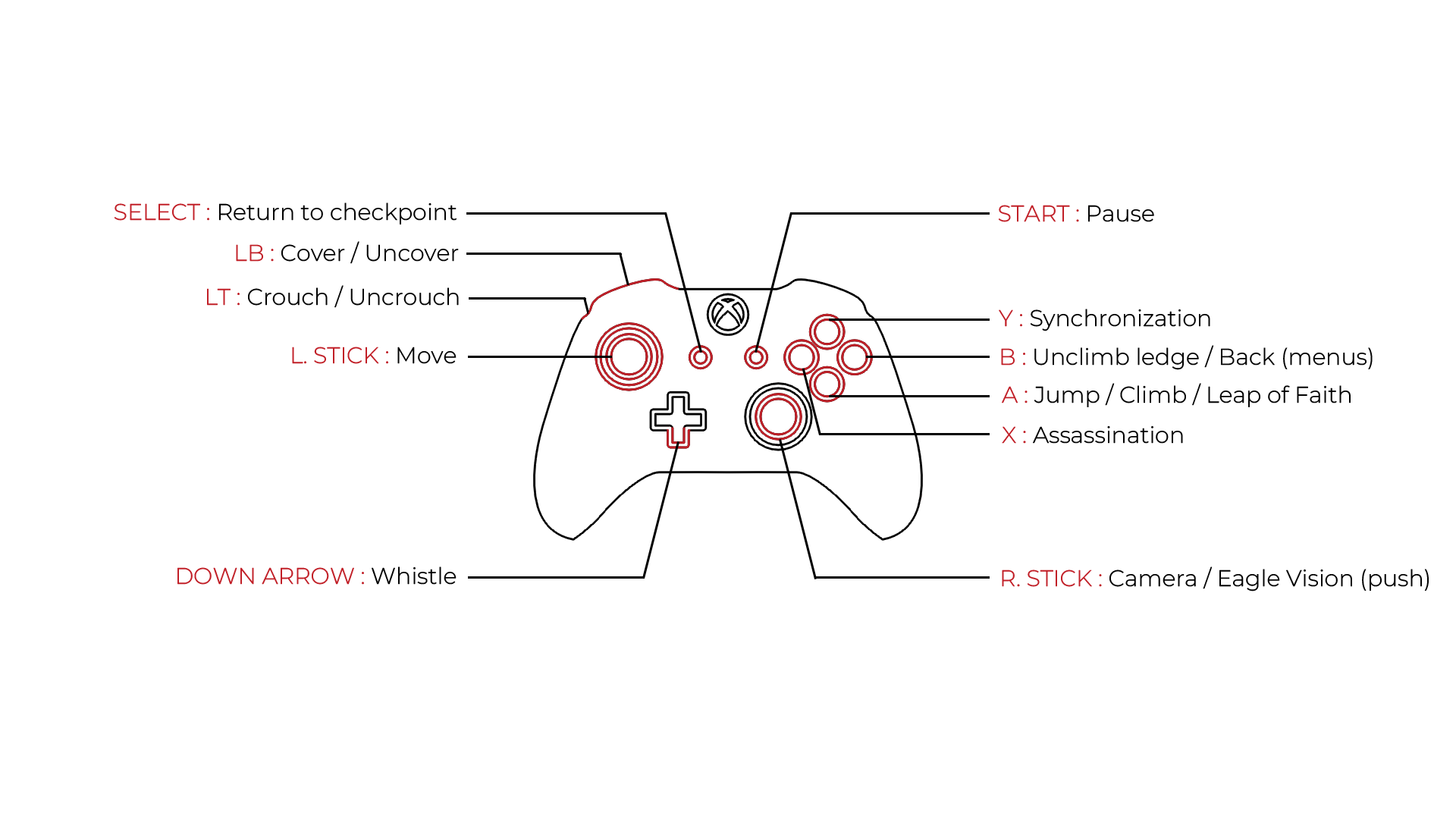 If you want to play with a PS4 Controller, please use an Xbox Controller Emulator like x360ce.
Mouse and keyboard
| Input | Actions |
| --- | --- |
| Z, Q, S, D | Move forward, left, backward, right |
| Mouse | Move camera |
| Space | Climb / Jump |
| X | Unclimb |
| C | Crouch / Uncrouch |
| V | Eagle Vision |
| Escape | Pause / Back (in menus) |
| E | Cover / Uncover |
| R | Whistle |
| T | Synchronization |
| L | Return to checkpoint |
| Mouse left click | Assassination |
If you are stuck somewhere, don't forget to use SELECT (Controller) or L (Keyboard) to return to the last checkpoint.

The fan game was made by a team of 7 students in 7 months, mostly in their free time.
It was developed on Unreal Engine 5. The objective was to create a prototype based on an old Assassin's Creed game, with improved gameplay and graphics.
We chose Assassin's Creed: Bloodlines as the main reference for this prototype. Some features were modified or added, inspired by those present in the latest Assassins' Creed games (Unity, Syndicate, Origins, Odyssey, Valhalla).
You will find some bugs and many imperfections.
Keep in mind that this is a school project, and we didn't have the time to finish it properly. We would have liked to improve some parts of the prototype like the AI, the assassination system, the parkour or the cinematic system.
It was made by passionate team members and some big fans of Assassin's Creed, who did their best to offer you the best Assassin's Creed experience possible. We hope you will enjoy our work.

CORE TEAM
PRODUCER
Aurélien Thazet
LEAD PROGRAMMER
Antinéa Gontard
PROGRAMMERS
Adeline Delbecq | Stealth system
Antinéa Gontard | Parkour system
Aurélien Thazet | UI & Sound systems
ARTISTS
Louis Billoir | Technical Artist
Lucas Payet | Environment Artist
Nicolas Perrot | Rigger & Skinner
Tommy Te | Character Artist
EXTERNAL TEAMS
PLAYLAB
Théo Bertrand | Communication Manager
Simon Dos Santos | Communication Manager
Louise Knoery | Project Manager
Maureen Richermoz | UX Designer
ARTISTS
Quentin Osmani | Character Artist
Robin Villier | Rigger & Skinner
ASSASSIN'S CREED EXPERIENCE - YOUTUBE CHANNEL
Maxime Anot
Maxime Nicolas
Aurélien Thazet
Valentin Thieullet
ASSETS
UNREAL MARKETPLACE
Dark Medieval Environment Megapack
Fantasy and Medieval Architecture Kit
Frank Stealth Kill
Real Fire Pack 2d Effect Pack
Ultimate Traversal Anims
MUSICS
Assassin's Creed Outlaw - Unofficial Theme - Malte Wegmann
Solomon's Temple - Jesper Kyd / Ubisoft Music
Acre Underworld - Jesper Kyd / Ubisoft Music
SOUNDS
Sounds from many Assassin's Creed games - Ubisoft All Rights Reserved
Sounds from freesound.org
SCHOOL
Thanks to Lyon Ynov Campus

| | |
| --- | --- |
| Status | Prototype |
| Platforms | Windows |
| Rating | |
| Authors | AurePixel, FrozenFs |
| Genre | Adventure |
| Made with | Unreal Engine, Maya, Blender |
| Tags | 3D, Action-Adventure, Fangame, Medieval, Parkour, Remake, Singleplayer, Stealth, Third Person, Unreal Engine |
| Average session | A few minutes |
| Languages | English |
| Inputs | Keyboard, Mouse, Xbox controller |
| Accessibility | Interactive tutorial, Textless |
| Links | YouTube |
Download
Download
assassins-creed-bloodlines-remake-win.zip
1 GB
Install instructions
Download .zip file
Unzip file
Double-click on BloodlinesV2.exe
Enjoy
Comments
Log in with itch.io to leave a comment.
Super Fan Game, dommage qu'il y ai pas plus de niveau :)
Brav
Bravo à toute l'équipe pour cette création. Allez-vous continuer ce projet car j'ai hâte de voir les évolutions :)
Merci beaucoup ! On ne pense malheureusement pas aller plus loin dans le développement mais ça fait plaisir de savoir que le projet t'a convaincu au point de vouloir des évolutions :)
Super projet ! On se rend compte à quel point la conception d'un jeu vidéo est longue et fastidieuse. Surtout quand on souhaite reproduire les mécanismes d'un Assassin's Creed. En tout cas c'est un boulot de malade et avec de la passion, une team en béton, et du temps, on peux toujours aller plus loin. Je suis étudiant designer (pas dans l'informatique)(et à Lyon comme toi si j'ai bien vu :D ) , j'ai l'habitude de travailler pendant de longue périodes sur des projets, et je comprend bien à quel point il faut s'accrocher pour aboutir à un résultat satisfaisant pour nous comme pour un Jury, c'est énorme. Bravo :)
Hello Antoine ! Merci beaucoup ça fait super plaisir :D
Au plaisir que l'on se croise un de ces quatre sur Lyon alors. Peut-être via l'association Lyon Game Dev qui organise des évènements tous les mois ? ;)
Banger.
I've played AC since I was a child and i gotta say it; this game is a pure copy. The movements and the vibe are similar to the original. I genuinely liked the aerial kill. Fun to play and to speedrun.
Congratulations to all the team that worked on the project.
Looking further to your next one.
Thank you so much 🙏
Don't hesitate to share the game all around you. That's help a lot !
Je viens de terminer le jeu et franchement quel travail ! C'est impressionnant ce que seulement 7 personnes ont réussi à faire en 7 mois en plus. Etant en plus un grand fan des ac depuis pas mal de temps j'apprécie d'autant plus ce genre de projet qui me rappelle à quel point j'adore cette licence. Un gros gg à la team et à tout ceux qui ont participé à ce projet !
Merci à toi pour ton retour, ça fait hyper plaisir que l'on a réussi à faire plaisir aux fans !